Band Uniform
The band currently wears the: Vermont "Dress" tartan kilt, black waist belt, black leather day sporran, black Glengarry cap, light green epaulette shirt, with dark green necktie, cream hose and tartan flashes and black shoes. A black daywear Argyll jacket or dark blue military cut sweater is worn for special events and cold weather. The following uniform

items are provided by the band and remain the property of the band at all times: Vermont Tartan Kilt, black waist belt, black leather day sporran, necktie, tartan flashes, black Glengarry cap, cream hose, black daywear Argyll jacket and dark blue military cut sweater. The band member will be expected to purchase black dress shoes.
Vermont Dress Tartan
The Vermont Dress Tartan was designed by the family of Lilias MacBean Hart, a Scot who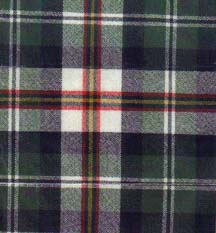 now resides in Wilmington Vermont and owns the Quaigh Design Center. The fabric was woven at her family Woolen Mill in Scotland. The fabric was then brought to the nearby Lochcarron Kilt Makers shop and made to our measurements there. Our thanks to Donald Ransom for taking our kilt measurements; a needed professional touch!
The Vermont Tartan was adopted by the Vermont Legislature as the "official" state Tartan. Thanks are also due to the St. Andrews Society of Vermont, who was gifted the rights to the Tartan by Lilias MacBean Hart, and as our original sponsor has allowed us to use it as our band kilt. The Society also holds the rights to the "Green Mountain Tartan", designed by Anne Somers, a long time Society member.