We offer FREE bagpipe and drumming lessons……
The band offers instruction for piping and drumming as an encouragement and incentive for attracting new members. An instructional program has been designed to meet the needs of the individual member and the band as a whole. It consists of instruction ultimately designed to integrate and transition the piper or drummer into the "parade" band at a level of basic competency.
The parade band practices every Wednesday night with few exceptions at the St James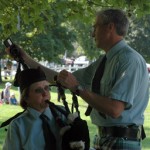 Episcopal Church, 4 St James Pl, Essex Junction, VT. The purpose of the practices is to provide individual attention for those needing it, to work on the band's repertoire on chanters and pipes, work on unison playing, tuning, band sound, marching and deportment, etc. Senior players and officers will also be available to assist with pipe maintenance problems, etc. A high level of commitment is expected and required for those members wanting to perform with the band. Regular attendance at practice is very important.
We welcome all former or existing pipers or drummers, beginners or experienced. Having any musical instrument background is preferred but not essential. New piping classes start quarterly and drumming lessons by arrangement with the Drum Sergeant.
For information on free lessons CLICK HERE.
For information on becoming a member contact the PIPE MAJOR.
For information on hiring the Band contact the BAND MANAGER.